BIODANZA ©
THE JOY OF FEELING YOUR BODY IN MOTION!

"Dare, dare, give your life back its true value. Dare, dare, give back to this world all its colours".
Yannick Noah.
What is Biodanza for?
*Well-being, personal development.
*Strengthen human potential for a more fulfilling life and relationships.
*Promote better self-expression.
*Reduce physical and psychological stress.
*Increasing joy and pleasure in life, vitality and mood.
*To facilitate communication with others.
*To evolve and innovate.
*To give a sense of connection with nature.
*Rehabilitate the feeling of belonging to the human species.
Biodanza is a method of bodily expression and human development that allows each person to find and cultivate pleasure and vitality through movement, the encounter with oneself and with others through dance proposals to be performed alone, in pairs or in groups within a caring group.
This method, which comes from Latin America, works on the range of potentialities present in each of us and seeks to broaden them, so that each person can find his or her own physical, emotional, existential and creative responses.
Within a framework of trust and respect for each person, Biodanza facilitates full self-expression, stimulates joy in life, increases confidence and self-esteem, reduces stress levels, stimulates the immune system and connects us to each other.
It invites us to take better care of ourselves and others by developing positivity, empathy and respect for ourselves and our needs. By recognising what feels good, it encourages us to let go of what can be toxic (dependencies, addictions, abusive relationships…). It is possible to repair childhood traumas and to free ourselves little by little from old cultural and family conditioning. To overcome wounds in order to regain and cultivate self-confidence and self-esteem, to value who we are and to find our rightful place in the group and in the world.
*Biodanza is particularly suitable for those who are looking for a method of personal development that does not rely on words or thoughts but on the body's movements and the pleasure of dance and music. By experiencing emotions, tensions are released. It also allows people who have difficulty with verbal communication (people with disabilities, people who do not speak French, shy people, etc.) to be valued.
Where does biodanza come from?
It was created more than 50 years ago in Latin America by Rolando Toro, a Chilean anthropologist, who discovered the beneficial effects of certain types of music on human moods during research carried out as part of the chair of medical anthropology at the University of Santiago de Chile in the 1960s.
He then codified a set of exercises which, by stimulating the primary brain (instincts, emotions and affects) and the neuro-vegetative functions, strengthen resistance to stress, stimulate the immune system and revive the vital forces (hence the name "Bio", which comes from the Greek Bios, meaning "Life".
How do you (bio)dance?
In a group, in principle, on a weekly basis. The session called "vivencia" lasts 2 hours or less, depending on the audience, and may or may not include a time for talking at the beginning of the session.
All judgement being excluded, the regular practice of this discipline allows everyone to live an experience that awakens security, self-confidence, openness to others and spontaneity.
The body expresses itself through a wide range of exercises related to personal development and the search for balance and harmony: vitality, creativity, affectivity, sensuality and the link with nature.
Biodanza allows us to activate or reactivate these potentials if they have been extinguished, to develop them and thus to enrich the quality of life of each person.
Where do we biodance?
Just about everywhere. In Latin America, Canada, Europe, South Africa, and even in Japan, Israel, Reunion Island…
We dance in private groups and in institutions (with teachers who have followed complementary specialisations): schools, old people's homes, favelas in Brazil, prisons (social work), companies, psychiatric hospitals and other institutions for different adults and children with disabilities, in connection with the professionals of the sector concerned.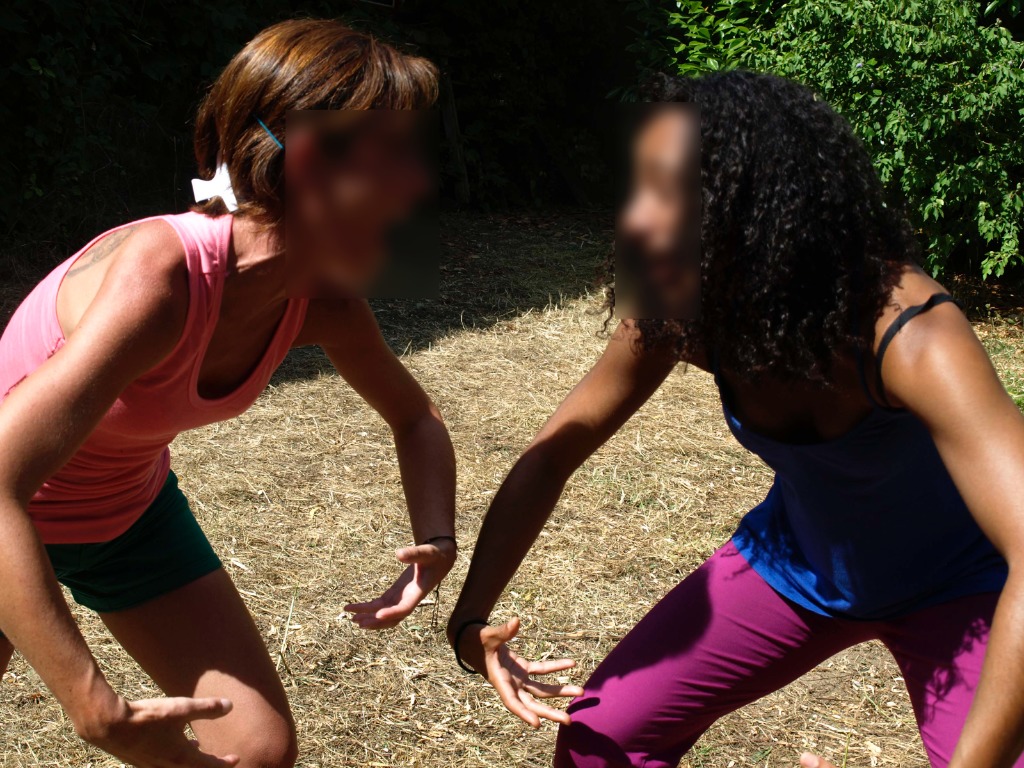 My specializations in Biodanza :
–June 2009: Biodanza "children and teenagers" at the Rolando Toro Biodanza School in Liege.
-June 2010: Biodanza teacher diploma for adults at the Biodanza School of Burgundy.
– April 2016: Applications of Biodanza in the clinical and social field at the School of Seville in association with the School of Minas Gerais, Brazil.
–October 2016: Extension "Biodanza, Voice and Percussion", by Sergio Cruz, Burgundy School.
– April 2019: Extension "Biodanza Identity and Self-Esteem", by Hélène Jeanne Levy Benseft, at the Cooperative Biodanza School of Toulouse Occitanie.
-Sept-Dec 2019: "Biodanza, mental handicap and associated disorders", Ecole de Biodanza de Lyon.
My background in Biodanza
Since 2009, I have led weekly workshops for adults in Paris, for more than 10 years in the Toulouse region and in the Aude. I have also run workshops for children (in schools and in private settings) and intergenerational "family" workshops. I have accompanied in my groups people with visual or hearing impairments. And with autistic or psychological disorders.
I have also proposed, led and co-facilitated workshops for women on confidence, image and self-esteem. Thematic workshops with voice, live music, writing, storytelling, astrology (dancing the signs of the zodiac), massage and photography, qi gong and shiatsu, small moving sand theatre…
What I propose in 2022
From March 16, 2022, a weekly Biodanza workshop for adults on Wednesdays in Puivert (Aude) Chez Marius, from 5pm to 7pm. The first Wednesday of the month, the workshop will be open to children (accompanied by an adult) and teenagers and will take place from 5pm to 6.15pm. Price: 10 euros per session for adults/8 euros for children and teenagers.
The alchemy of the Greek goddesses. An initiatory journey.
One day per month, between women, in a magnificent natural setting, to get to know oneself better, to recognise oneself or to explore oneself through the symbolic movement of the 7 archetypes of the Greek goddesses. We will use methods of body expression such as biodanza, combined with other forms of expression such as writing and voice, as well as a circle for sharing authentic and liberating words.
Price: 50 euros per day/60 if co-facilitated. Picnic in Spanish hostel mode for the lunch break which is an integral part of the course. Timetable: 10am-5pm. Welcome from 9:30 am.
Make a date:
*Saturday 26 March 2022. Hestia. Alet-Les-Bains.
*Saturday 23rd April 2022. Artemis, co-hosted with Nuire Sobron, Tribal Fusion and tattoo specialist. Alet Les bains.
*Saturday 14th May 2022. Athena. Alet-Les-Bains.
* June 18, 2022. Aphrodite, co-hosted by storyteller and singer Rachel Salter. Alet-les-Bains.
*Friday 22 to 24 July 2022: Saturday-Sunday workshop Demeter and Persephone. Special evening for the feast of Mary Magdalene on Friday 22 July open to all.
My wish is to create other workshops and courses in the Aude/Pyrénées Orientales/Ariège …
Parents' associations, NGOs, other professionals committed to the inclusion of so-called sensitive groups (mentally, physically or sensory handicapped, autistic disorders, DYS or hypersensitive children), women victims of violence, socially or culturally disadvantaged groups, please contact me for any project where biodanza could contribute to the well-being and inclusion of these groups.
Contact: 06 61 62 19 21. Biodanzalorena11@gmail.com